Jeremiah Tan
Scoring a goal for his future, para-athlete is recipient of LASALLE's Dare to Dream scholarship
Looking at Jeremiah Tan for the first time, one will never imagine the immense amount of confidence, independence and passion this 20-year-old holds within him.
Diagnosed with rickets from a very young age, and subsequently dealt with a brain tumour and dyslexia, Jeremiah had to endure questions about his bowed legs during his growing up years. But all that never fazed him. In fact, it contributed to his unbridled love for football, which propelled him to a bronze medal winning in the 8th ASEAN Para Games with Singapore's cerebral palsy football team.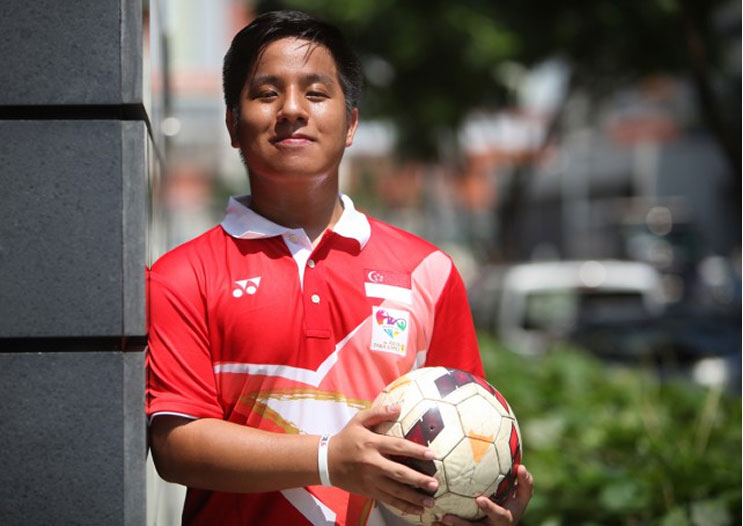 Motivation through football
For Jeremiah, who is pursuing broadcast media in LASALLE College of the Arts, his days can start as early as 5 am and end as late as 11 pm. He has to juggle school and football training, especially before the ASEAN games, but says he manages somehow. When asked what prompted his love for football, Jeremiah admits that it started out with him and his friends finding the sport cool and graduated to it being a game that "brought everyone together".
Sharing his feelings about his condition, Jeremiah confided that it was not easy for him to make friends especially when he was younger. Fortunately, he managed to do so through football, a game he described as being "like an international language that speaks to everyone."
Jeremiah supports the EPL team Chelsea whose mascot is a lion, just like Singapore's. He also follows players such as Frank Lampard for his professionalism. Jeremiah feels that he has much to learn from such players in the way they talk and carry themselves on and off the pitch, and that is what will make him a better footballer.
Showcasing his passion
Besides football, Jeremiah also expressed a deep fervour for cinema and film. He explained that the reason he chose to study broadcast media was due to his love for 'moving images or rather, any image' and that the story telling behind this is very strong.
In an impressive achievement, Jeremiah has directed and produced his first short film "Chapter 23", which was shortlisted for the National Youth Film Awards 2015. The film has been available for viewing on YouTube since April 2015. He shared that "Broadcast media is definitely one area that I want to pursue because I have a goal that I set out to achieve and that is to reach out to as many people, with or without disabilities, so that we can reach a common platform."
It is Jeremiah's intention to use his two passions to raise awareness of disabilities and not just accept the disabled into our community. Through his participation in competitive sports, he wants people to know that the disabled are as competitive as the abled-bodied. Through broadcast media, a fast moving tech medium which he thinks is how most people absorb more information, he hopes to share snippets of his life.
Thankful for family support
When asked about his family's support for him through the years, Jeremiah is extremely grateful. "They have been very supportive of me and on that front, I think I've been very well covered by my mother, father and sister. They have always been like a backbone for me especially at the period of time when I was struggling with hospital visits amidst trying to have a normal education".
"It was tough but with all the unfortunate developments that happened, good things always followed. So from then on, you are able to count your blessings. You manage to pull through with a lot of support coming from everywhere."
DISCOVER HIS ACHIEVEMENTS
HIS CONDITION
Achievements
Scoring big in life
With one goal in mind, Jeremiah wants to prove that people with physical disabilities can also achieve their dreams if they put their minds to it.
Team Singapore at the ASEAN Para Games 2015
In the thick of the action
For a job well done
Chapter 23. A short film directed by Jeremiah Tan.
Restless. A video that Jeremiah Tan produced in collaboration with four Level 3 LASALLE Diploma in Music students in 2018. Jeremiah was the producer and lighting grip while fellow members filled the roles of director, camera op, editor and art director. The film revolved around the lives of a writer, a tinkerer and a girl. Watch how their lives are mysteriously and inextricably woven together to portray a deeper message of curiosity, boldness and perseverance.
Extraordinary People: Rickets and brain tumour no barrier to sporting success
READ MORE
Jeremiah's love for football and all things artistic is illustrated in his gallery of engaging Instagram photos.
His creative streak on the sideline

@jet9n