What's New
Welcome to Dare to Dream students from NAFA!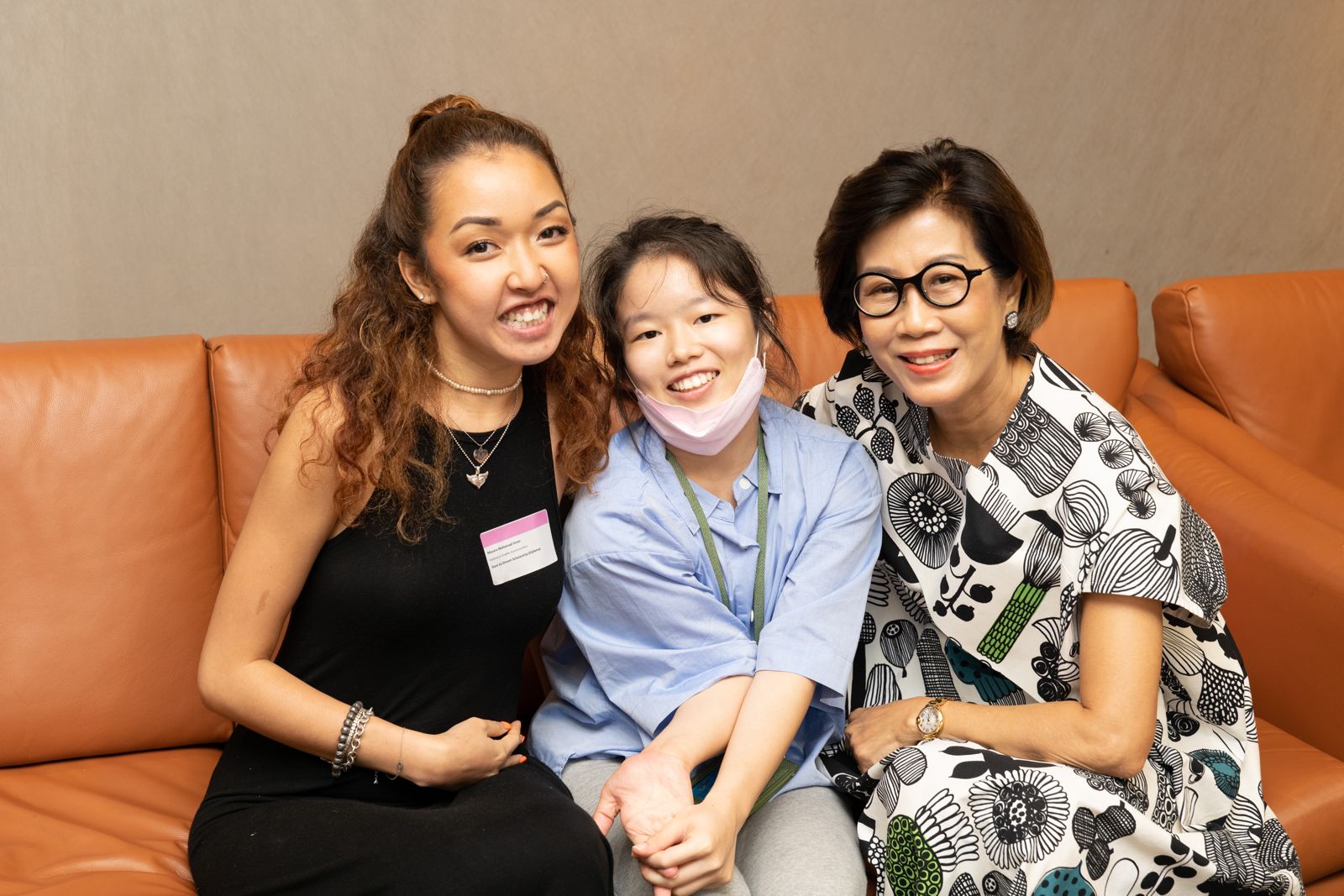 Mysara Mohd Imran (left, pursuing Diploma in Graphic Comms, 2022) and Alicia Choong (centre, pursuing Diploma in 3D Design, 2021) with Tan Shook Wah (Founder, Dare to Dream scholarship) on 26 August 2022.
---
Dare to Dream get together finally after covid-19 kept us apart!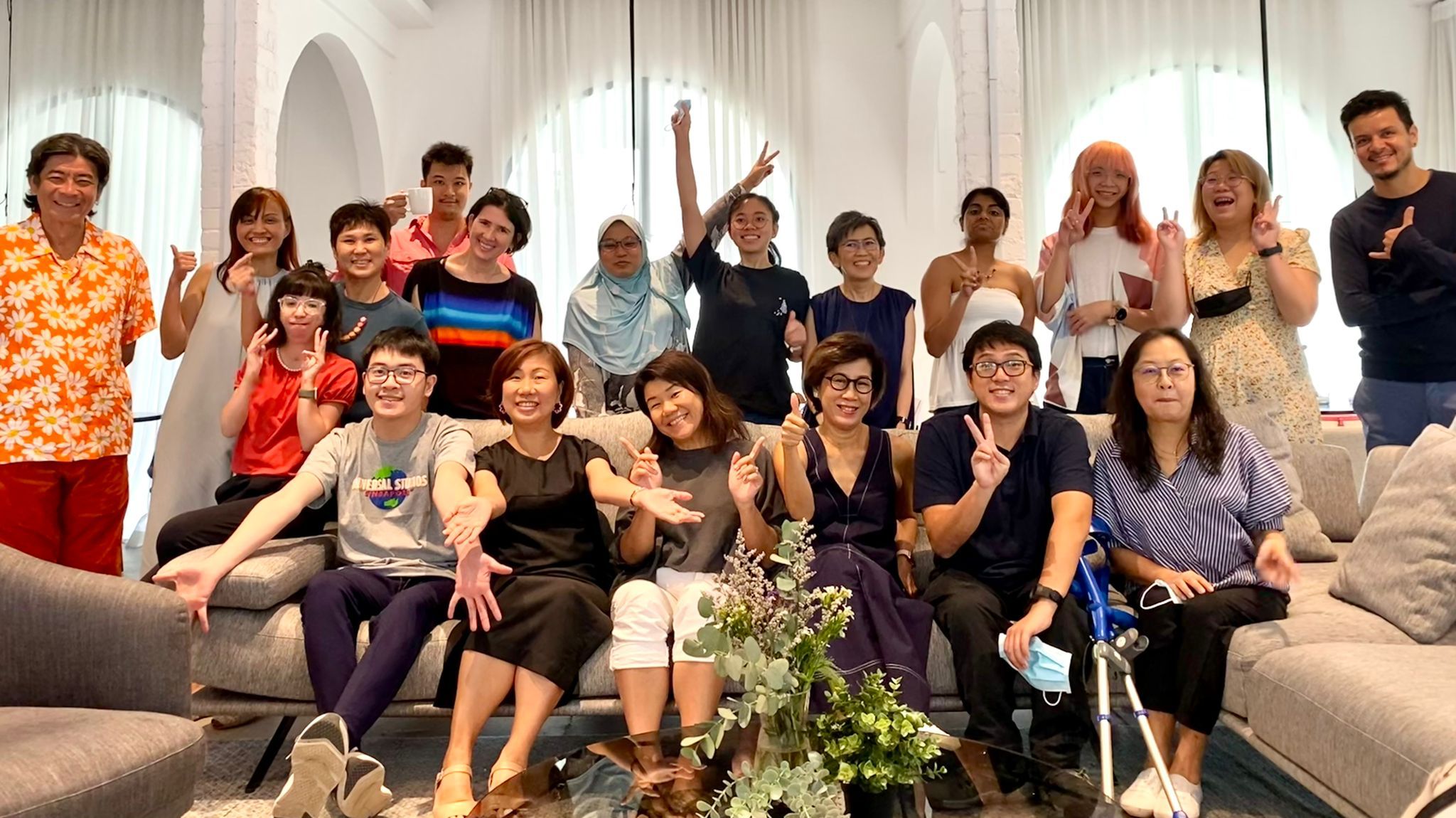 Learning Journey and lunch hosted by Vita Vitae's Chief Creative Officer Kathy Lim-Sheehy and friends on 27 August 2022 at the Third Space.
---
Dance doyenne of the Singapore Chinese Girls' School, Mrs Jean Chan, meets Dare to Dream 2019 recipient Chelsea Lim.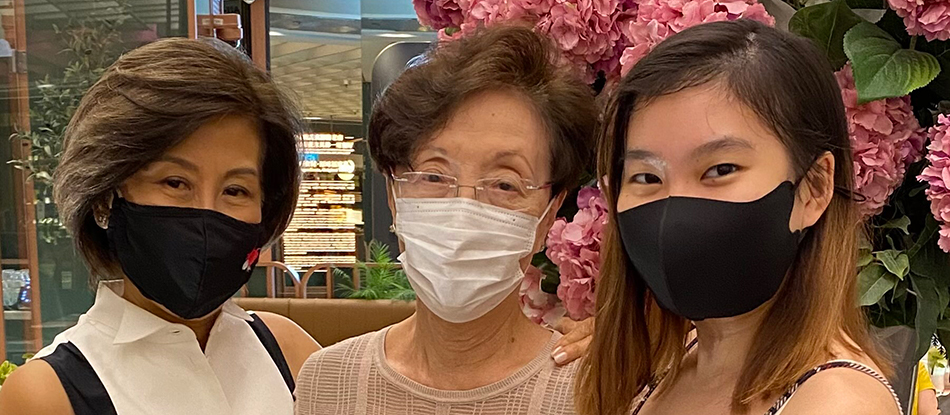 On 14 April 2021, Dare to Dream 2019 recipient Chelsea Lim (on the right) met Mrs Jean Chan (centre) who inspired the scholarship founder Kan Shook Wah (on the left). Dance doyenne of the Singapore Chinese Girls' School for more than 50 years, Mrs Chan was the subject of Chelsea's Year 2 presentation for her Diploma in Dance at LaSalle College of the Arts.
---
Alex Lim's arrow hits bullseye!
A beaming Alex Lim (2017) with Mr Baey Yam Keng, Guest of Honour at NAFA's graduation ceremony on 6 September 2019. Armed with a Diploma in Advertising, Alex is now ready to shoot his big, original and out-of-the-box ideas!
---
Nico Tay graduates with a Diploma in Animation, LaSalle College of the Arts
On 30 August 2019, Nico Tay (2016) joined the ranks of new graduands from LaSalle College of the Arts. Congratulations Nico on your fine achievement! Your parents are so proud of you and so are we!
---
Welcome Ahbi to Dare to Dream at NAFA!
Ahbi Shalini (right) is our Dare to Dream (2019) student at NAFA, our first to be pursuing a Diploma in Graphic Communication. Pictured here together with Natara Aaliyah Lim (2018 recipient), Mrs Tan Shook Wah (Founder, Dare to Dream) and Mr Chia Mia Chiang (NAFA President) on 16 August 2019 at the NAFA Scholarship & Awards ceremony.
---
Speaker Tan Chuan-Jin encourages Dare to Dreamers to pursue different paths to reach their goals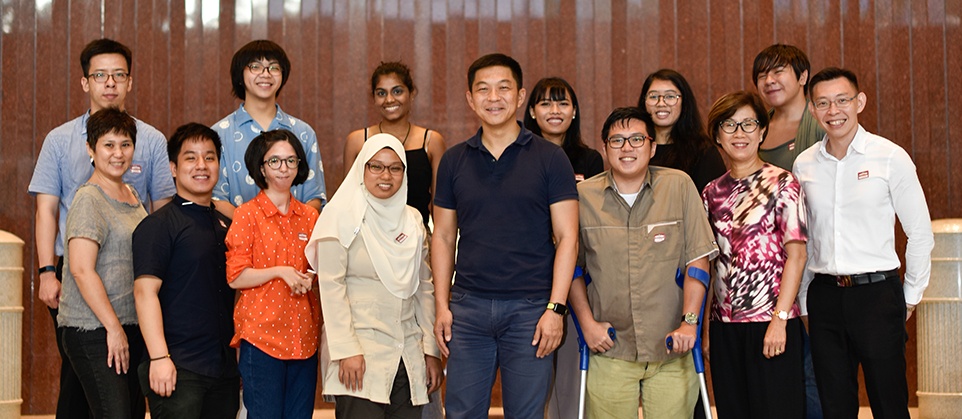 On 10th June 2019, eight Dare to Dream scholarship holders and friends were honoured to have been invited to meet with Speaker Tan Chuan-Jin following a tour of Parliament House.
The scholarship holders shared their varied experiences having stepped forward to publicly acknowledge their disabilities, shared their involvement in supporting and working with others in the special needs community and showed how the larger community could interact and communicate with them in a meaningful way.
Speaker shared efforts on many fronts to raise awareness of persons with disabilities (PWDs) and stressed that both the PWD and larger communities had roles to play for PWDs to be normalized in society. He engaged the scholarship holders on the internships that they were pursuing as these provided 2-way opportunities: as confidence building measures for PWDs and for employers to assess the skills of PWDs, which often were unique and exceptional, for potential employment.
The scholarship holders appreciated Speaker's encouraging words and the challenge for them to be courageous in pursuing many different paths in order to reach their end goals.
---
Alex Lim NAFA Grad Show (2019)
Alex Lim at NAFA Grad Show (2019) with his final year project "Risk is everywhere" for FWD, an insurance company in Singapore.
---
8 Dare to Dreamers on 4 May 2019
---
Gathering of Dare to Dream recipients (2013 - 2017) on 6 September 2018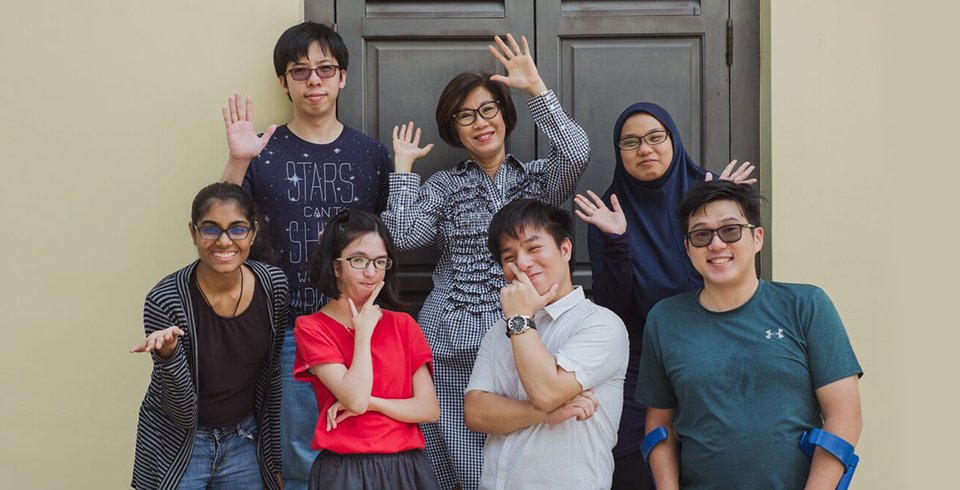 ---
Congratulations Jeremiah!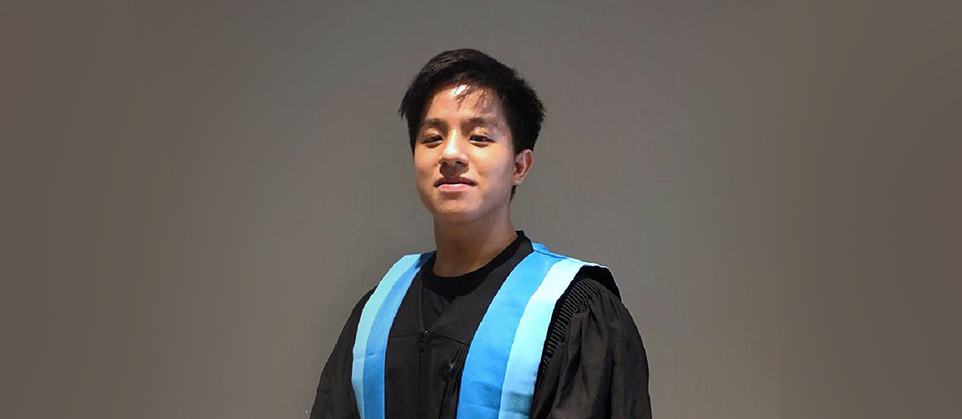 Congratulations Jeremiah on graduating with a Diploma in Broadcast Media (7 September 2018)! You have balanced your time well between studies and soccer!
---
Jeremiah Tan meets The Straits Times Senior Writer Wong Kim Hoh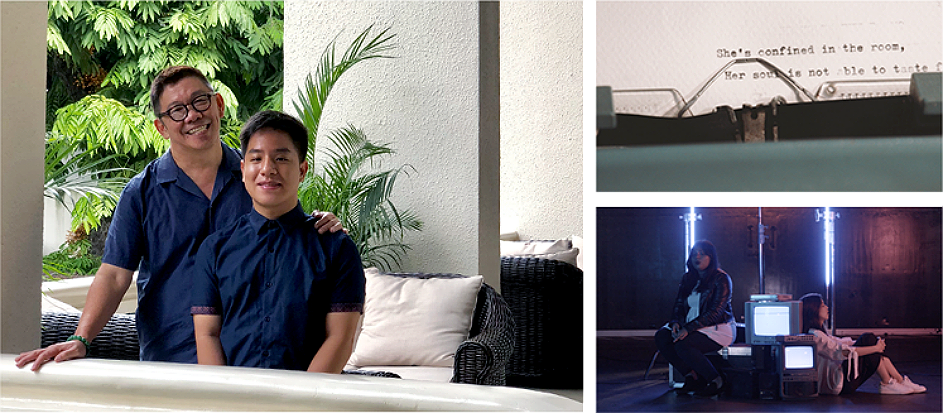 It was inspirational for Jeremiah to meet with Kim Hoh on 12 March 2018. Kim Hoh, a script writer for several movies, shared on script writing and film making. He also generously provided food for thought to Jeremiah on ideas to be explored for future scripts.
Thank you Kim Hoh!
---
Dare to Dream partners Nanyang Academy Fine Arts from 2017
Dare to Dream is delighted to welcome on board the Nanyang Academy of Fine Arts (NAFA) as a partner from 2017. The partnership was sealed at NAFA's Scholarship & Awards Tea Session on 15 September, in the presence of Mr Jerry Soo, Vice President (Academic), where Mr Alex Lim was the first recipient. As Singapore's pioneer arts education institution that thrives on diversity, NAFA attracts talented budding artists including several from the special needs community. We look forward to supporting Dare to Dream @ NAFA recipients to realise their dreams.
---
Dr Janil Puthucheary, Senior Minister of State (SMS) for Education, meets Dare to Dream scholarship recipients @ LASALLE
We are delighted that as part of his work on Special Educational Needs (SEN) in MOE, SMS Dr Janil Puthucheary visited LASALLE on 29th August 2017 where he met with the Dare to Dream recipients. The recipients appreciated SMS' interest in getting to know them and to understand their needs. They felt assured when SMS told them that having special needs should not make them different from anyone else and that they should enjoy equal opportunities. We hope that the visit and interaction was helpful in adding to SMS' appreciation of the SEN landscape to enhance MOE's work on improving SEN support in our education system.
---
Denise Phua, Mayor, Central Singapore District, MP for Jalan Besar GRC and also Co-founder and Supervisor of the Pathlight School chats with Nico Tay, 2016 recipient of the Dare to Dream scholarship
It was a privilege for Nico Tay (2016 recipient of the Dare to Dream Scholarship) to have met with Miss Denise Phua, Mayor, Central Singapore District, MP for Jalan Besar GRC and also Co-founder and Supervisor of the Pathlight School (Singapore's first autism focused school) on 25th January 2017.
Miss Phua showed particular interest in how Nico coped in mainstream schools, given his Autism Spectrum Disorder (ASD) condition, and what his special interests were. She was attentive to Nico's interest in how Pathlight School operated as compared to the mainstream schools, pointing out Pathlight's efforts in maximising on the strengths of those with special needs and treating them sensitively and with respect.
Nico was very encouraged by Miss Phua's warmth and interest in his well-being as well as the wonderful work at Pathlight for those with ASD. He also appreciated information on the Employability & Employment Centre (E2C), set-up at the Enabling Village by the Autism Resource Centre, where ASD persons receive training and support for employment.
---
Isabelle has graduated!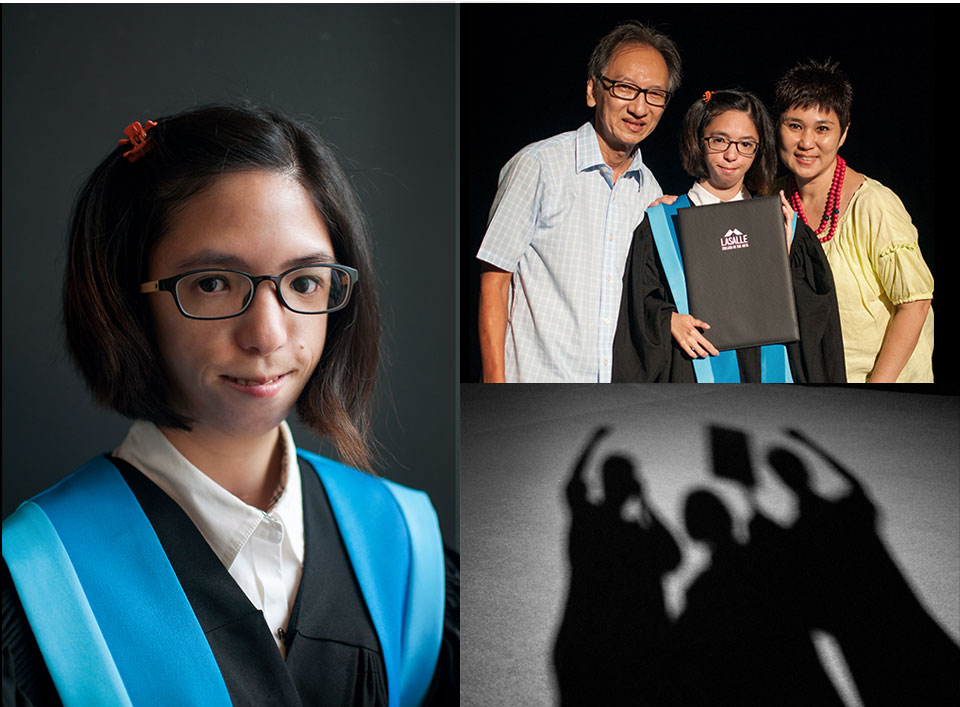 Congratulations, Isabelle, on your achievement of the Diploma in Fine Arts (Art Photography)! You have demonstrated courage, grit and confidence in pursuing your dream and provided hope for others to reach their potential too. We wish you every success in all future pursuits!
---
See What I See - a solo photography exhibition by Isabelle Lim
Familiar yet Unfamiliar

22-year-old Isabelle Lim will be holding her first solo photography exhibition "See What I See", which will feature her latest works. A recent graduate of the Diploma in Fine Arts from LASALLE College of the Arts, Isabelle was the first recipient of the Dare to Dream scholarship.
Fascinated by photography since she was 11 years old, what Isabelle enjoys in particular is how each photograph can capture the emotions of her human subjects. Born with a rare genetic condition known as Nager Syndrome, Isabelle faces multiple physical challenges growing up, one of which is profound deafness. But nothing has stopped her from pursuing her dream of becoming a photographer.
After having her works featured at various exhibitions in LASALLE, join us at the Enabling Village - Singapore's inclusive community space - for Isabelle's first solo exhibition!
Date:
23 July 2016 (Saturday)
Time:
3.00pm to 7.00pm
Venue:
Enabling Village
20 Lengkok Bahru
Seminar Room 1
RSVP:
carey@adplanet.com.sg
---
"Gas and Dust: The Manufactured Space Exhibition" Photos by Isabelle
26 March – 8 May 2016
"Gas and Dust: The Manufactured Space Exhibition" held at the LASALLE College of the Arts (26 March – 8 May 2016) was curated by Isabelle Lim together with four artist curators during her 3-month internship. This was how Isabelle described her experience:
"I enjoyed drafting the exhibition concept. In particular, I had a great learning experience being in charge of social media and designing the website showcasing the artists' concepts, artworks and installations while my partner ran through the details of the artworks and concepts on the website. I also got an opportunity to volunteer as a photographer for the opening night.
Through the internship, I feel humbled to learn much about curating. I am thankful for the wonderful guidance from my project supervisor and Institute of Contemporary Arts Singapore (ICA) staff of LASALLE College of the Arts. Through the team members whom I worked closely with, especially Hua Kim Phuong, I learnt the importance of teamwork, clear communication, responsibility, co-operation, initiative and understanding. During the internship, I did not let the communication barrier stop me from contributing my inputs. A signing interpreter helped me but behind the scenes, I relied a lot on WhatsApp to communicate with my team members, artists and project supervisor, and Gmail to ICA staff.
I am very grateful to the people I worked with for their patience to make the exhibition a success."
---
DPM & Coordinating Minister for National Security chats with Jeremiah Tan, 2015 recipient of the Dare to Dream scholarship

November 2015
On 9th November 2015, DPM & Coordinating Minister for National Security Teo Chee Hean chatted with Jeremiah Tan who was awarded the Dare to Dream scholarship for 2015. It was a privilege for Jeremiah to have met with DPM Teo who showed personal interest in his pursuit of a programme that would pave the way to a sustainable career.
DPM Teo had a refreshing chat with Jeremiah and also candidly shared his own interest and injuries, in soccer which resonated well with Jeremiah. He was pleased that Jeremiah was a sensible and positive young man who was doing well and able to pursue his interests, making good use of his abilities.
---
Dare to Dream gives hope to Isabelle
Scholarship Launch & Award 2013
Foreign Minister K Shanmugam presided at the launch of the Dare to Dream scholarship on 20th November 2013 at LASALLE College of the Arts. Isabelle Lim, who has Nager syndrome, was the first recipient of the award to benefit deserving special needs students.
The scholarship partner is LASALLE College of the Arts whose culture embodies abiding precepts of inclusivity and empowerment and whose founder, Brother Joseph McNally, was "buoyed by the belief that the arts are vital to a person's spiritual life - and therefore, on a wider scale, to a nation, its people and society".
From a young age, Isabelle has been encouraged to dare to dream. She says that "One of my childhood dreams was to become an artist and to teach art to deaf children… Looking through the lens gives me a different and unique perspective of people and their lives… I can sense people's laughter, joy and cheerlessness as I look into the lens and capture them… I dream of working as a photographer in the future. I also hope to teach young children to appreciate good photography. I want to fulfill this dream to do what I am passionate about. I hope to have this scholarship to challenge myself to dare to dream".